Some people believe in fate. Other's say God works in mysterious ways. There's also luck of the draw, in the right place at the right time and several more neat phrases that I can't think of right now.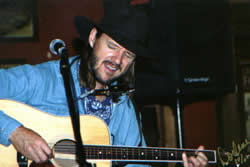 I believe in luck, but I think luck is when skill meets opportunity. It was luck that I met Bret Graham.
The opportunity was mine, the skill belonged to Bret. I caught his show one hot afternoon in mid-1998 at Gruene Hall in New Braunfels,Tx.

For those of you unfamiliar with Gruene Hall, it is the oldest dance hall in the entire state of Texas. If the walls of this hall could only talk! Thousands of artists have performed here. Many got their start here. Ever heard of Hal Ketchum or George Strait? Anyway, back to my story. I first heard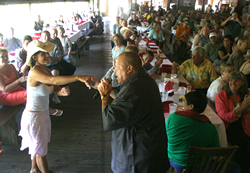 Bret and bassist Gerry Burns one hot summer afternoon at Gruene Hall. Oh, by the way, Gruene is pronounced "Green" for those of you wondering. I was completely blown away by Bret and his music. Never had I witnessed such pure raw talent captured in one man.

After over 20 years of seeing literally THOUSANDS of concerts in the great state of Texas, Bret is still my favorite performer. I've seen Bob Dylan from the front row at the Summit in Houston. I've seen the Rolling Stones from 20 feet away on their last stadium tour. I saw the Eagles "Hell Freezes Over" tour. I saw Johnny Cash at the Erwin Center in Austin. Caught Bruce Springsteen at the Cotton Bowl in Dallas. Elton John and Billy Joel at Rice Stadium in Houston. Tina Turner from the front row at the Alamodome in San Antonio. After all of these shows, and hundreds of others I haven't mentioned, Bret Graham is still my favorite performer.